Takagi Water Heaters Features and Benefits.
Takagi tankless water heaters are top of the line. Takagi technology have been used and improved in Japan for over half a century. Takagi produces some of the most efficient tankless water heaters in the industry.
Keeping mind that not all homes have the same demand for hot water, Takagi has a diverse selection of tankless water heaters to choose from. Offering ten different models of tankless water heaters, Takagi will meet the hot water demands of any household no matter how big or how small.
Quick Overview of Tankless Water Heaters by Takagi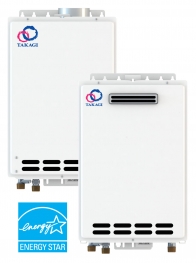 Takagi Tankless Water HeatersSince there is no tank to fill, there is no end to your supply of hot water. Depending on the model, Takagi Tankless water heaters deliver between 200 gallons and 500 gallons of hot water every hour on demand. Tankless systems guarantee that an endless supply of water is available to residences, commercial spaces or anywhere a constant source of hot water is needed.

Tax Credit / Rebates – Federal Tax Credits for Consumer Energy Efficiency
Please note, not all ENERGY STAR qualified products qualify for a tax credit. ENERGY STAR distinguishes energy efficient products which, although they may cost more to purchase than standard models, will pay you back in lower energy bills within a reasonable amount of time, without a tax credit. to find out more visit http://www.energystar.gov
Tankless Water Heater Rebate Program
Available from The Southern California Gas Company to find out more visit http://www.socalgas.com/for-your-home/rebates/
SOUTHERN CALIFORNIA – COMMERCIAL
Express Efficiency Water Heater Rebate Program
Available from The Southern California Gas Company to find out more visit http://www.socalgas.com/for-your-business/