We carry all major water heater brands:

GE offers energy-efficient designs, large capacity tanks and high altitude models. Gas water heaters manufactured by GE have no filters to clean service or replace, making it more convenient for the homeowner. They manufacture water heaters ranging from 2.5 to 80 gallons depending on your hot water needs.
Learn More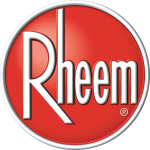 Originating in San Francisco California, Rheem has been manufacturing water heaters since the 1930's. Rheem is the industry leader for heating, cooling, and water heater solutions. Their products meet and exceed industry quality standards. Rheem offers traditional tank gas or electric water heaters as well as tankless water heaters.
Learn More

Takagi tankless water heaters are top of the line. Takagi technology have been used and improved in Japan for over half a century. Takagi produces some of the most efficient tankless water heaters in the industry.
Learn More

Rinnai tankless water heaters are backed by a 45 year history of innovation and improvement. When choosing a Rinnai tankless water heater you can count on a 12 year limited warranty on the heat exchanger through the manufacturer.
Learn More

Noritz is a leader in the market for tankless water heaters. They have a wide variety of selection depending on your household or commercial needs. The compact designs of the Noritz water heaters allows for a facilitated installation and whether it be indoors or outdoors, the compact design will save you space and can be installed almost anywhere.
Learn More

A.O. Smith has a single focus, to become a global leader in water technology. They are global leader in applying innovative and energy efficient technologies and solutions to products worldwide. A.O. Smith has sales and distributions in more than 60 countries. With this in mind, purchasing an A.O. Smith water heater is quality you can trust.
Learn More