San Diego's Premiere Tankless Water Heater Company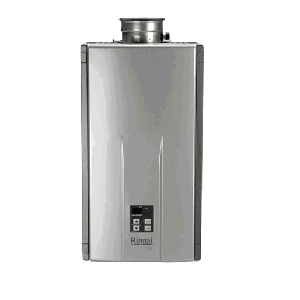 The need for water conservation and energy efficiency is being met by modern tankless water heating systems. Advanced technologies allow businesses and residential owners to reduce water waste and save on energy costs while having more convenient water heating. Water Heater Kings stays is stride with cutting-edge tankless water heating solutions and recommends that everyone consider upgrading from traditional systems. There are a variety of reasons why a tankless system could be a viable solution for you. Let's look at a few more details of how.
Rebates and Savings Programs
One of the main deterrents to acquiring a tankless unit is the cost. However, homeowners and businesses that choose to utilize tankless water heaters can significantly reduce tankless unit and installation costs by applying for rebates and various initiatives related to energy conservation.
SoCalGas – Communities serviced by SoCalGas can apply for natural gas tankless water heater ENERGY STAR® rebate. Businesses can apply for equipment incentives.

Federal Tax Credit – Reduce 30% of the installation costs of your new residential ENERGY STAR® tankless unit with this IRS tax credit.
Individual manufacturer rebates – Several tankless water heater manufacturers offer discounts and rebates on their units. We work with them all and can let you know of available savings.
If you are interested in applying for any of these programs and need assistance, feel free to contact us. We can walk you through the process and help you submit your application.

Real Benefits for Businesses and Homeowners
There is a lot information about the benefits of tankless systems—some true, some false, and some old (tankless systems have advanced greatly in just the past 2 years). Here is reliable (and verifiable) information for businesses and homeowners:
Residential Benefits
Traditional water heaters can run out of hot water because they rely on tanks. Tankless units can offers an infinite supply of hot water. Additionally, tankless water heaters can help you save up to 34% of your water heating costs.
Commercial Benefits
Did you know that the FEMP (Federal Emergency Management Program) requires that Federal agencies have tankless water heaters? We can help your business save energy like Federal entities. Installing a high powered tankless water heater can allow your business to:
Regain floor space from a traditional system. Tankless units are wall mounted and about the size of a small to medium sized suitcase.
Never worry about closing your business due to water heater being down. Commercial settings usually install 2 or more units (instead of a single boiler) so that there is never a problem with water heating.
Save on gas usage. Tankless systems heat water upon need instead of constantly as in traditional units.
Water Heater Kings have an advanced understanding of the tankless systems and the application in various building sizes. We can help you choose from units that will provide enough hot water, meet the appropriate flow rate, make sure that your current gas & water lines are compatible with the unit, and address any special consideration like adequate venting. Our tankless water heater services areas include Del Mar, El Cajon, Encinitas, La Jolla, Oceanside, and the entirety of San Diego County.